Music
I started playing Bluegrass in 1971, after I got turned on to the music at a club in San Francisco. Within a few weeks I had dumped a whole collection of rock & roll records for $1 a piece and with the proceeds bought my first guitar and began learning to play bluegrass. I have never looked back. The music has now been a nearly five decade passion for me.

Throughout this time I have been a member of a number of bluegrass bands: Fickle Hill; the Friends of Sally Johnson; the Grand Ole Ospreys; the Fossils; and currently, Pearly Blue.

Here you will find information and sound/video recordings of all these groups. Additionally, at the end, I have added audio clips of my own original pieces. For all video and audio, simply click on the links.
Pearly Blue
Pearly Blue
is a traditional bluegrass band based out of Anacortes, Washington. The band presents bluegrass music true to the pioneers: Bill Monroe, Flatt & Scruggs, the Stanley Brothers, and others, as well as more modern pieces adapted to the genre. Barry Brower, guitar; Jen Dunton-Brower, acoustic bass; Rich Jones, banjo; Pete Martin, mandolin; Mike Schway, fiddle.
For more information: Pearly Blue
Audio: Florida BluesAudio: ​Deep River Blues
​Video: Darling Nellie Across The Sea(More Audio/Video Cuts Below)
---
The Fossils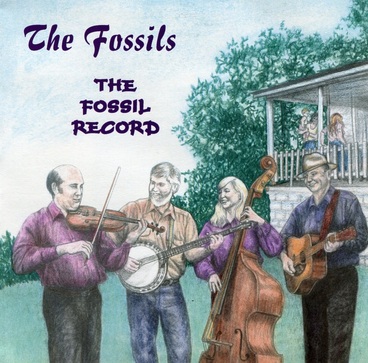 The Fossils were originally formed in 1993. The first version of the group consisted of Harley Worthington, banjo; John Welch, mandolin/vocal; Kevin Bennett, fiddle/vocals; Al Hutteball, bass; and yours truly, guitar/vocals.

Video: Blue Ridge Cabin HomeBy 1997 the group coalesced around a core group of four musicians: Doug Bright, fiddle/mandolin/vocals; Belle Chenault, bass/vocals; Bill Scott, banjo/lead guitar/vocals; and me.
In 2000 the band released The Fossil Record (Voyager VC-0348). Here is an original composition from that CD:
Audio: Winter Blues
---
The Friends of Sally Johnson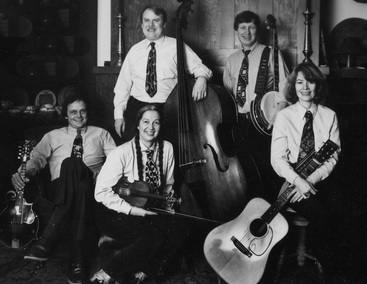 L-R: Barry, Vivian Williams, Phil Williams, Harley Bray, Shera Bray
In 1984 I moved to Langley, Washington, and started jamming with close friends Phil and Vivian Williams, and Harley and Shera Bray. (The late) Phil and wife Vivian Williams are the most influential Folk musicians in Washington state, and Harley Bray was well-known for his recordings with the Bray Brothers and Red Cravens.I decided to put together the Friends of Sally Johnson along with mandolinist John Welch. Later I switched over to mandolin when John left. During this period we played many bluegrass festivals and were honored to perform at the 1988 Grass Valley Bluegrass Festival and appeared on ABC TV's "Home Show." The band performed until 1990.
Friends of Sally Johnson:
YouTube Videos
(More Audio/Video Cuts Below)
---
Fickle Hill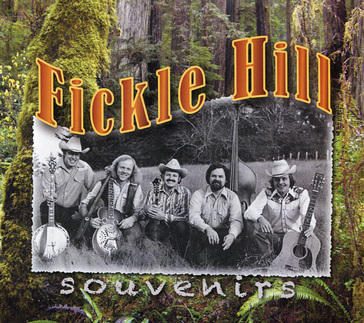 The first bluegrass group I ever played with was based in Arcata, California. The group was originally a duet consisting of mandolinist Mike "Spumoni" Manetas and guitarist Dave Johns. The name was taken from a local landmark. In 1972 I moved to Arcata and shortly thereafter the group expanded to a full bluegrass band with the addition of Brooks Otis, banjo; Judy Power, fiddle; Gary Grounds, bass; and me, guitar. Later, Dave and Judy left the group and Ro Purser joined on dobro. During that period we played a lot of shows and were a regular house band at the Jambalaya Club in Arcata. As well we opened shows for Bill Monroe, Doc Watson, Jim & Jesse, and played at the 1979 Grass Valley Bluegrass Festival.
Audio:
When I Stop Dreaming
(More Audio Cuts Below)
---
Grand Ole Ospreys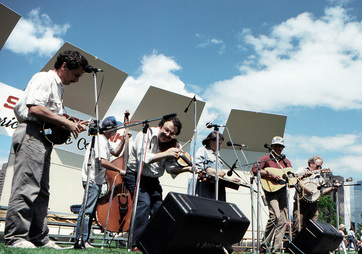 I have always admired the singing of my friend Laurel Bliss. She has developed a devoted following from her recordings with Cliff Perry and Carol Elizabeth Jones. I began playing a lot with her and her husband, bassist John Clark; banjoist Gene Wilson; mandolinist Stan Miller; and fiddler Fred Weisz, and we chose the name Grand Ole Ospreys along with the moniker "Birds of Play."

Fred had extensive musical credentials dating back to the 1960s with such groups and performers as the Greenbrier Boys; the Even Dozen Jug Band; Red Allen & Frank Wakefield; David Grisman; Goose Creek Symphony; and Hazel and Alice. He even performed on the Ed Sullivan Show. Stan is a well-known mandolin maker and former member of the Grant Street String Band. Soon the Grand Ole Ospreys were formed and we played for a couple of years. (NOTE: Both Gene Wilson and Fred Weisz have passed on).Audio: Banks of the Ohio
---
Original Compositions
While I have not spent a lot of time writing songs and instrumentals I have come up with a few over the years. These are presented below.Winter Blues This was the first piece I ever wrote, in 1977. Folks kid me about it maybe being "autobiographical" but really it's not. Just something that popped into my head one (sunny, summer) day. This and My Carolina Darlin' and Lost in This World are recorded on The Fossils CD (Voyager VRCD-0348).My Carolina Darlin' Perhaps my favorite of the pieces I have written. I don't have a "Carolina Darlin'" (a Washington one instead) but I wanted to write something in the style and thematic character of southern songs.Lost in This World The line "I think of you in daylight, dream of you at midnight" popped into my consciousness one day and I ran with it...Rock the Boat
(This piece is notated below)
On the side I play the fiddle, mostly "oldtime" style rather than bluegrass. But I have managed to come up with a number of fiddle tunes over the years and this is one of my favorites. For some reason I have written several that have 3 parts -- not much good for square dancing -- and this is one of them (yes, that is me playing the fiddle). One of the parts reminded me of a rocking boat...can you figure out which?Jumpoff Joe
(This piece is notated below)
I think this was the first fiddle tune I wrote. It is named for a little creek that crosses underneath Interstate 5 north of Grants Pass, Oregon. Other than that, I don't know the local history of "Jumpoff Joe."
Miscellaneous Recordings
Videos
Over the years I have videotaped many bluegrass groups. Here you will see the results of those efforts: Videos of the Vern Williams Band; Del McCoury Band; Nashville Bluegrass Band; Kentucky Rose; Weary Hearts; Johnson Mountain Boys; James Bryan; Barry & Holly Tashian, and many more.
Audio:
Pearly BlueLeavin'
Recorded at Brewgrass, Anacortes, 2017. Barry Brower, lead vocal; Jen Dunton-Brower and Rich Jones, harmony vocals.

Little Cabin Home On The HillRich Jones does the lead singing on this Bill Monroe & the Bluegrass Boys standard. Jen Dunton-Brower and Barry Brower sing the harmony. Recorded at Brewgrass, Anacortes, 2017I Want To Be Loved
Jen Dunton-Brower, lead vocal; Rich Jones, harmony vocal. Recorded at Brewgrass, Anacortes, 2017

Hollow PoplarA banjo and fiddle duet, the way many folks performed for dances in the southeastern United States before bluegrass. Mike Schway, fiddle, and Rich Jones, banjo, do the honors.
The FossilsBig Country Recorded at our first rehearsal, 1993. Harley Worthington, banjo; Kevin Bennett, fiddle; John Welch, mandolin; Al Hutteball, bass; Barry, guitarAngel BandOriginally recorded by the Stanley Brothers, we recorded our version at the 1993 Darrington Bluegrass FestivalMr Engineer
This is a Jimmy Martin piece that I've always liked. I think Kevin Bennett does an excellent job on the fiddle here.
Bluegrass RambleThis was recorded at the Darrington Bluegrass Festival. For those shows we added the superb Portland mandolinist, Greg Clarke, who is featured here. The rest of the band is Doug Bright, fiddle; Bill Scott, banjo; Belle Chenault, bass; Barry, guitar.Rambling RoundGreg Clarke does a soulful rendition of this Woody Guthrie piece.

Friends Of Sally JohnsonHarley's BreakdownIn my humble estimation Harley Bray is one of the finest bluegrass banjo players to have ever put his hands on the instrument. It was a privilege to stand next to him on stage for 5 years. The former member of the Bray Brothers and Red Cravens is heard here on one of his own compositions. He is ably assisted by Vivian Williams, fiddle; Phil Williams, bass; Shera Bray, guitar; and Barry, mandolin. Recorded in Arcata, California in June of 1988.Think of What You've DoneRecorded at the Northwest Folklife Festival Benefit, Seattle.Jenny LynnThe late bassist Phil Williams switches to mandolin for this unusual arrangement we made of the venerable fiddle tune, noted in Bill Monroe's Uncle Pen as "the greatest of all" fiddle tunes played by his uncle.
Chokin' the Strings
This version of the Don Reno banjo standard was recorded in our first year as a band, when John Welch played the mandolin.

Fickle Hill
How Mountain Gals Can Love
Mike "Spumoni" Manetas and I sang this song regularly. It is an upbeat number from the Stanley Brothers.
Body and Soul
I am the lead singer on this piece originally recorded by Bill Monroe.
Also:
​I Want to Be Loved
(The Dunton Sisters).
In addition to performing in Pearly Blue my wife Jen made recordings with her sister Bev and mom Gae in the Dunton Sisters, a very popular group around Anacortes, Washington.
Oh Darlin'
(The Dunton Sisters).
This is perhaps my favorite cut from the Dunton Sisters CD, Singing in My Heart.
I may be a little biased but my wife sings the heck out of this song...
New Harmony
(Barry, Jen, Tom Moran)
.
Jen and I performed for awhile with mandolinist Tom Moran doing older country and folk music. New Harmony is a town in Indiana, to which the song's author makes a nostalgic return.
I Can't Wait
(Barry & Jen)
.
Kieran Kane is one of our favorite songwriters. He writes lovely pieces sometimes with mystical/religious overtones. This is one of them
.
Liza Jane
(Grand Ole Ospreys, 1990)
.
The late Gene Wilson (banjo) and Stan Miller (mandolin) had a nice duet worked out on this piece.
Notated Fiddle Tunes
The fiddle is not my main instrument but I do play it some (listen to the Original Compositions above). As well, I have written a number of fiddle tunes, mostly in the "oldtime" vein, and some of which are notated.
These are available for you to learn and/or perform and I encourage you to do that
.
If you are interested Click Here
.